Born in Brussels in 1990, Roubens, street artist, attended 7 years an Artistic academy. He also graduated in 2013 at the High School St Luc (Brussels) as a graphic designer in visual and plastic arts.  His studies have enabled him to manipulate digital processing programs, programs he uses as a tool for his inspiration.
R  E  A  L  I  T  Y  M  A  Y  V  A  R  Y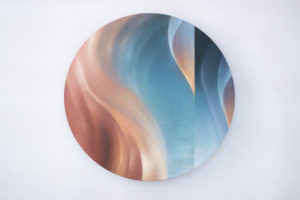 The work of Roubens is like a landscape shift, he experiences dynamic and organic shapes with painting and sculpting materials. 
Combining nature and geometric shapes results on unexpected contemporary creations.
In search of evoking the sensations that we can find when we are surrounded by nature, a sensation that vibrates with the body and mind, that escapes us and gives way to contemplation and connection. An energy that speaks to the deepest part of the being.
Teamwork and association with diverse artist has always been part of the creation process. Enrichening and broadening the horizons, approaching new supports.
In 2016, he joined Propaganza Urban Artists, the most diverse and dynamic collective in Brussels, which brings to light Belgian artists mainly from the graffiti scene. Exhibitions, large scale painting, spraypaint shop and graffiti school are part of the project.
In 2016, Natalie Sanzache, lighting sculptor on concrete generated the Capsule Collection.
In 2017, he formed a partnership with the plastic artist photographer Bernard Langestein. Its graffiti covers full scale resin straw bales.
In 2019, he begins to works with Harmonia Gama on large scale artistic installations with a real nature engagement.